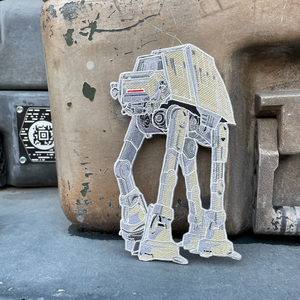 The Walker iron on patch
Regular price $20.00 Sale
This  patch measures from 7 inches tall and features iron on backing for easy application.  
 I also recommend ironing on the patch from side, don't place iron directly on the front of the patch as it has the plastic holographic fabric in the design. 
INSTRUCTIONS 
1. Set your hand iron at the hottest temperature setting.
DO NOT USE STEAM DURING THE APPLICATION. Do no iron patch on delicate fabrics ( silk, Rayon, leather, nylon).
2. Place your patch in the desired position, and place a pressing cloth ( a pillowcase or handkerchief) over the top.
3.Press the iron straight down for 40-50 seconds with as much constant pressure as possible. NO BACK AND FORTH MOVEMENT.
4. Turn the garment inside out and repeat steps 2 and 3.
5. Allow the patch to cool down.
6. Test the edge, if patch is not full attached repeat steps 2-6 and increase time bu 10-20 seconds.
7. for best results, sew patch to fabric.